Seven ways to be a good neighbor
What the Bible teaches us (even through a pandemic)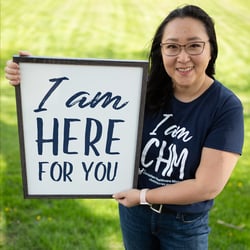 Being a good neighbor can happen in a million different ways. Ask a few friends what it looks like to be a good neighbor and you're likely to get a dozen wonderful—yet different—answers. Endeavoring to be a good neighbor in any season, let alone during a global pandemic, presents as many opportunities as it does challenges.
It's important to ask: Who is my neighbor? What are my responsibilities as a good neighbor? How do I connect with others and show them the hope I have in Christ? As Christians, we are defined by our beliefs and how we live out our faith in front of others. We look to God to teach and empower us to be good neighbors in word and deeds.
With our world in a state of uncertainty, we all need a reminder of who we're called to be. Together with Moody Radio, we went back to the Word of God to share some essential lessons on how to be good neighbors. Throughout the Bible, God continually gives attention to the posture (or heart) of man before speaking to the actions of man (Matt. 12:34b). With this framework in mind, we present seven ways the Bible teaches us to be good neighbors in posture and in practice.
Four biblical postures of a good neighbor
1. Love God first
'Love the Lord your God with all your heart and with all your soul and with all your mind.' This is the first and greatest commandment.—Matthew 22:37–38 (NIV)
The starting place for being a good neighbor is loving God with all that we are. The applications of this love are endless, but He is the first focus and recipient of our love.
2. Love your neighbor as yourself
Jesus continues speaking to the Sadducees in Matthew 22:39 by saying, "And the second [commandment] is like it: 'Love your neighbor as yourself.'" After stating that the greatest commandment is to love God, Jesus tells His people that their next greatest responsibility is to love their neighbor as dearly as they love themselves.
3. Love your neighbor like Christ loved you
Jesus commands His people to love their neighbors as they love themselves. In John 13:34–35, just before the feast of the Passover, before He is betrayed by Judas and subsequently hung on a cross, Jesus elevates the love we are to have for our neighbors by giving a new command: "Love one another. As I have loved you, so you must love one another. By this everyone will know that you are my disciples, if you love on another." Jesus's command to love as He loved us is further demonstrated in John 15:13 (NIV): "Greater love has no one than this: to lay down one's life for one's friends."
4. Be a Good Samaritan
This final biblical posture builds upon the first two by answering the question, "Who is my neighbor?" An expert in the law asks this question of Jesus in Luke 10:25–37. Jesus responds by telling him the parable of the Good Samaritan. In the parable, a despised Samaritan helps an injured Jewish man whom both a priest and a Levite have chosen to ignore. The Samaritan bandages the injured man's wounds and takes him to an inn where he pays for his continued care. Jesus, in telling the parable, changes the lawyer's question from, "Who is my neighbor?" to, "Which of these three . . . was a neighbor?" The lawyer rightly identifies the unlikely character, the Samaritan, as the one who displayed mercy. Jesus is telling the lawyer that he must love anyone he comes across with the same care, mercy and generosity displayed by the Samaritan.
Three biblical practices of a good neighbor
1. Pray for your neighbors by name (James 5:16b, Matt 6:5)
Whether for a coworker, a friend, or a literal next-door neighbor, you can practice being a good neighbor by praying for the people God has placed in your life. The better you know your neighbor, the more specifically you can pray for them. Pray for their family, career and health. Ask God to bless them—physically and spiritually—and incorporate Scriptures like Ephesians 1:15–19 into your prayers.
2. Inquire and listen (Luke 3:10-11, Matt. 25:44-45, Phil. 2:4)
The better you know your neighbor, the more intentional you will be in praying for them. Ask, how can I pray for you? In what ways do you need encouragement? Will you share with me what you've been going through? Simple questions encourage others to share their stories and needs. Ask God for wisdom to know when to offer words of life and when to simply listen. Be prepared to emulate the Samaritan by offering the same compassion and willingness to sacrificially care for your neighbor's needs.
3. Respond (2 Cor. 9:6-8, 1 Thess. 5:11, Prov. 19:17, Gal. 6:2, Heb. 13:16)
The Samaritan didn't just offer the injured man his pity; he also tended to his physical needs. It may not be your place to provide for all your neighbor's needs, but simply offering an uplifting word or tangible gift can alleviate many hardships. Whether being a good neighbor means speaking words of encouragement or paying for a tank of gas, remember Jesus's words: "'Truly I tell you, whatever you did for one of the least of these brothers and sisters of mine, you did for me'" (Matt. 25:40; NIV).
---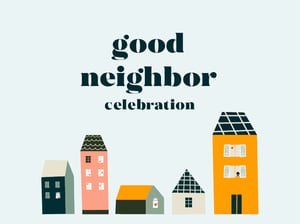 Want seven more real life and practical ways to be a good neighbor?
Download our free printable guide with quick and easy ways the Bible shows us how to be there for others!
Feel free to use it as a place-mat, hang it on the fridge, or even share it with a friend or neighbor as a source for inspiration and action.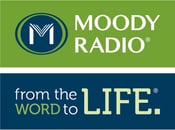 Moody Radio helps listeners take the next step in their journey with Jesus Christ by creating and delivering practical and life-changing content. They proclaim the Word to all cultures and generations by addressing today's issues from a biblical worldview. Through the Good Neighbor Celebration, Moody Radio partners with Christian Healthcare Ministries to celebrate the good neighbors, those who stand in the gap during uncertain times, sharing hope and encouragement with everyone around them. Celebrate the good neighbor in your life and enter to win prizes by sharing a story here.