Why Ramsey Solutions Trusts CHM
Do you want great Healthcare? You've come to the right place!
"We trust Christian Healthcare Ministries to take care of our Ramsey fans. Between their quality coverage and affordable prices, they are a great healthcare alternative."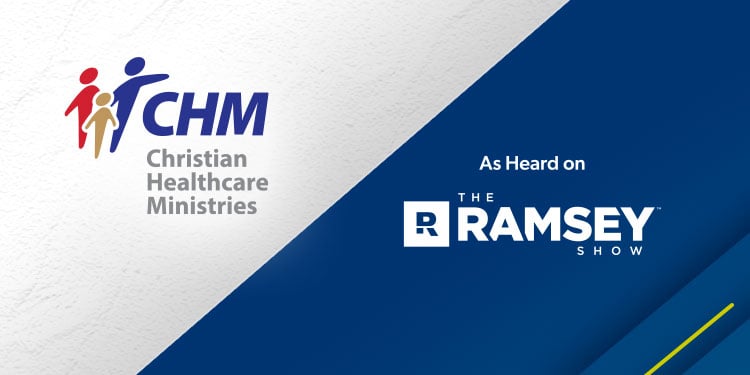 You may have heard about Christian Healthcare Ministries from a friend, through the internet, or even by listening to The Ramsey Show. But what exactly is it? CHM is a health cost-sharing ministry that supports a debt-free lifestyle.
Is the model unique? Absolutely, with intention! And whether you're paying off student loans, saving for your first house, or gearing up for retirement, we all have financial goals.
Why Christian Healthcare Ministries?
Share your health costs with a provider Ramsey trusts to care for you. Free up room in your budget so you can chase down your other financial goals. Choose flexibility – no need to worry about network limits. Feel secure knowing your eligible healthcare needs are taken care of.
Excellence in healthcare doesn't need to break your budget.
Balance your budget and fit your needs with options for maternity, catastrophic medical bills, and more!
Honor God with your finances
Secure financial peace before you incur healthcare costs
Steward your resources so that you can save for your financial goals
Advantages of becoming a member of CHM:
As the original health cost-sharing ministry, this community of believers has changed thousands of lives financially and spiritually by choosing to bear one another's burdens. Since CHM began over 40 years ago, members have voluntarily shared more than $8 billion to help each other with medical costs.
Plus, as a Better Business Bureau Accredited Charity that ministers through budget-friendly programs and a faithful framework, it's a program you can count on!
Visit Ramsey Solutions
Christian Healthcare Ministries is proud to partner with Dave Ramsey to share biblically based education that empowers and imparts hope in every stage of life.
Ramsey Solutions provides books, radio shows, podcasts, digital tools, and other resources to inform and equip everyone to achieve financial peace, personal growth, career development, and more.
From tools to simplify your life and track your budget, to empowering shows and events, Ramsey Solutions imparts powerful knowledge that makes a real-life impact.
Visit Ramsey Solutions to learn more!