This is why Dave Ramsey loves CHM
Do you want great Healthcare? You've come to the right place!

You may have heard about Christian Healthcare Ministries from a friend, through the internet, or even by listening to The Ramsey Show. But what exactly is it? CHM is a health cost sharing ministry that supports a debt-free lifestyle. Is the model unique? Absolutely, with intention! And whether you're paying off student loans, saving for your first house, or gearing up for retirement, we all have financial goals.
CHM can help you:
Free up room in your budget with our healthcare programs
Honor God with your finances
Secure financial peace before you incur healthcare costs
Save money allowing you to apply it to other financial goals you may have
Other advantages of becoming a member of CHM include:
A variety of programs to meet different budgets and needs
Unlimited sharing amount with Gold and Brother's Keeper programs
Freedom when choosing your healthcare provider and making treatment decisions
Generous maternity program and family options
Ministry-minded staff who pray for—and with—you
FREE months of membership when others join from your referral
Throughout the United States, hundreds of thousands of Christians are using biblical principles to meet the rising demands of healthcare costs. Together, CHM members have voluntarily contributed $6 billion to assist each other with medical costs since the ministry began 40 years ago. As the original health cost sharing ministry, this community of believers has changed thousands of lives financially and spiritually by choosing to bear one another's burdens.
Plus, as a Better Business Bureau Accredited Charity that ministers through budget-friendly programs and a faithful framework, it's a program you can count on!
---
CHM explained
In addition to our downloadable Information Pack, we've also created this informative video resource to explain what CHM is and how it works.
---
Want to learn more about CHM's health cost sharing framework?
Our digital Information pack is filled with details about how this ministry works and the many advantages of membership for Christian's just like you.
---
Ready for your free personalized instant quote?
Enter code

RAMSEY

and receive your first month free!
---
Hear from our members!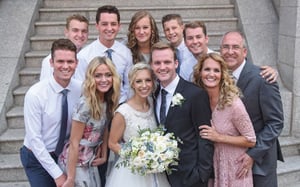 "In my professional opinion, I give CHM an A-plus rating. Whenever healthcare comes up in discussion, I gladly share with others about the ways CHM members provide for my family and me. I'm so thankful that God has given us the opportunity to find healthcare that's cost-effective, biblical and credible."
-David Demar, CHM member and financial expert
Read his and other CHM member stories here.
Christian Healthcare Ministries is not health insurance, but rather a trustworthy, budget-friendly and eligible healthcare option under the Affordable Care Act (ACA) that many Christians use as their solution to their healthcare costs. We welcome you to learn more about our health cost sharing ministry's history and how CHM meets the requirements of the national healthcare law.