CHM: the longest-serving health cost sharing ministry
Christian Healthcare Ministries (CHM) has been around since 1981, and what a journey it's been! What CHM members do for one another is nothing short of miraculous. You're the reason nearly $8 billion has been collectively satisfied in one another's medical bills. That's a big deal!
It's because of you that we've come this far.
Here's how we want to honor you:
Share your CHM testimony by filling out our survey.
Tell us what being a part of CHM means to you by emailing editor@chministries.org.
Provide insights about the future and how we'll serve you even better.
Thank you for the difference you've made and for being a powerful testament of God's love and the work of the Holy Spirit in the lives of believers.
Fun facts and milestones

As the first and longest-serving health cost sharing ministry, check out some milestones that make up some of our history.

The beauty of our history and our future

Serving more than 40 years, CHM is true to its founding mission—and we continue to experience historic vibrancy and growth. Hear from CHM's President and CEO about what's in store for the next 40 years.

CHM's 40th birthday party

Did you miss the 40th CHM birthday event? Don't worry, we recorded the entire thing!
---
Stay Connected!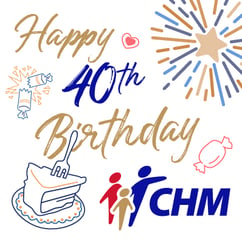 Christian Healthcare Ministries is not health insurance, but rather a principled, budget-friendly and eligible healthcare option under the Affordable Care Act (ACA) that many Christians use as a solution to their healthcare costs. We welcome you to learn more about our health cost sharing ministry's history and how CHM meets the requirements of the national healthcare law.